Glenhill Merchants, Belfast are the Phoenix Showroom of the Month – March 2022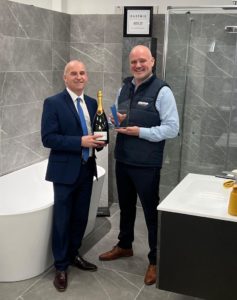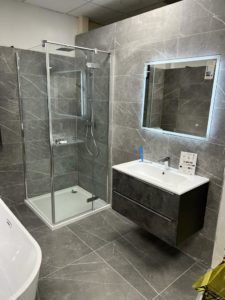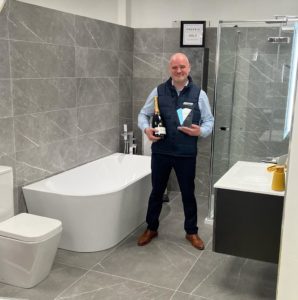 Glenhill Merchants from Belfast are the proud winner of the Phoenix Bathrooms 'Showroom of The Month' award for March 2022.  They emerged victorious from a short list of candidates that included some of the most prestigious and well known showrooms across the United Kingdom and Ireland.
Pictured receiving the award is Paul Furber. As a proud Welsh man and Liverpool supporter, Paul is used to seeing trophies being lifted but this is the first one he had the pleasure of accepting on behalf of his colleagues.
Upon accepting the trophy, Paul said to Business Development Manager for the region, Karl Simpson, he was impressed with the new products recently launched by Phoenix and that it was particularly impressive to see how the brand had developed with its new commercial and marketing initiatives. These, coupled with the ongoing commitment to only supply displaying retailers that won't sell Phoenix products online, has given Glenhill Merchants the confidence to increase their display commitment to include the new I-Zone modular furniture concept with it's on-trend colours, complementary brassware, sanitaryware, mirrors, heating and Whirlpool baths.
Speaking prior to sharing the bottle of Bollinger with colleagues, Paul accepted the challenge by Karl to be the first trophy recipient to be awarded the honour on more than one occasion!